A Brand That Saves Lives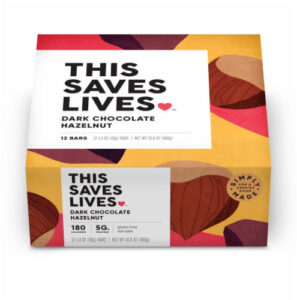 Many people have an aversion to the promotion of community partnerships and cause marketing. They don't like to highlight their heart because they think the promotion of their involvement can make their participation seem inauthentic.
There is no denying that highlighting community and cause marketing can put your brand in a positive light. However, your promotion and support also creates valuable influence for these organizations. It is reciprocal promotion. Many leaders don't realize that they have a responsibility to promote their participation because these organizations rely on promoted partnerships to get their message out. They depend on you when it comes to extending their voice and educating people on why they are a worthwhile cause.
It's not about trumpeting what you do to gain customers, it's about proudly showing people your heart and passion. You aren't bragging about your involvement, you are celebrating the joy you feel through your involvement. The goal is to educate others on what makes you so passionate enough that you support this organization, charity, or cause. Share that passion.
Influence multiplies when you convey
where the connection comes from,
and what it means to you.
Take a look at this example of four actors created a company that is built from and fueled by their story. The snack company This Saves Lives is a phenomenal example of a company who utilized their cause association and participation to build a brand that influences through the power of participation.
Ryan Devlin and Todd Grinnell are two actors went to Liberia on a humanitarian trip. In their travels they came face to face with children who were starving. They witnessed the effects of malnutrition up-close and got a first-hand look at how it was killing so many children. It changed them. They wanted to help.
While the trip was heartbreaking, This Saves Lives Co-Founder Ryan Devlin said, "it was also inspiring because we saw the incredibly simple, life-saving nutrition that was turning returning them to health. We decided right there to get more nutrition to kids in need so back home we met up with our friends Robbie and Kristen to figure out how."
They life-saving nutrition he is referring to are to peanut packets. These small packets of peanut paste could be ingested 3 times a day for 8 weeks to help a severely malnourished child to return to normal health. The peanut packets saved lives.
When these two actors returned to Los Angeles they met with two fellow actors and friends, Kristen Bell and Ravi Patel. They all discussed the issue and put together a plan to start a snack company that was in the business of doing good. Part of the proceeds from the sale of the bar would go to buy a single peanut packet. The math and concept was simple. You buy a bar, you give life-saving nutrition.
Their whole website is a phenomenal example on How to create an engine of influence that will inspire participation. It's pretty much a tutorial on Culture Development Marketing. They educate you everywhere.
First, you are greeted with a simple #WeEatTogether headline and right underneath it simply says, Buy a Bar, Give Life Saving Nutrition. There is a "Shop Now" box there if all you want to do is order. However, if you want to learn and be inspired, just scroll down.
Next, they feature their brand story summary.
We make ridiculously delicious snack bars, but we're not really a snack bar company. Our mission is to end childhood malnutrition worldwide. To do that, we developed a simple giving model – we sell the best snacks, so we can give the best life-saving nutrition to kids around the world.
It's simple and its comprehensive. In 49 words, they show heart and emotion while explaining what they do and why the do it. They also illustrate how you can join in and the impact of your involvement.
At that point, all you have to do is click the red box that says "LEARN HOW IT WORKS" and you are taken to a page that gives you everything you need to know.
It leads with the words, "Your impact so far" and has an associated real-time counter underneath it that Provides the number of life-saving food packets that have been provided in partnership with everyone who has purchased a bar.
It then educates through a "How it Works" section that shows the powerful process that drives the company's mission. The four step process educates you on how your snack purchase leads to from your purchase of the tastiest snack you'll ever buy, to the description of the life-saving food packet that is specifically made to treat malnutrition, to an understanding of the treatment, and finally to the look at the future you are helping to build where the child you helped can now "grow up to change the world around them."
It continues with a section that shows "Your impact around the World" by illustrating a world map where you can click to view information on the "Countries you've already given to," Each area contains a summary of how they have been impacted by malnutrition, and a continuously updated number of life-saving food packets that you have helped provide to them.
Celebrating your story also means never missing an opportunity to help you meet, relate, and appreciate everyone. They have an "US" section that explains who the founders are, how they got involved, and why fighting malnutrition is important to them. They have another section that introduces you to their Giving Partners, Action Against Hunger and Second Mile Haiti with direct links for you to learn more about them.
They also feature a "Meet the Families You have Impacted" section that allows you to personally to get to know the young children whose lives you have saved. These inspiring individuals are living proof of the impact that this company is making. Thanks to the program, they are no longer in jeopardy of losing their lives. They are now influencers who inspire participation. In fact, when you look at the way the "This Saves Lives" brand story is being told, it is easy to see how Everyone is an Influencer.
The founders, the giving partners, the children that are being saved, and bar purchasers who are taking part in making it happen. They are all part of the celebration … and they are all "influencers."