Belief Wins With Heart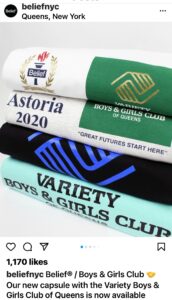 When we think of traditional "Influencers" we think about individuals. However, communities can be powerful influencers as well. Smart brands have always looked to align with non-competing brands, organizations, communities and non-profits to generate influence through collaboration.
When identifying community partnerships, brands should seek out unions where the influence is reciprocal. It's not about the size or popularity, success is about integration and participation. When you are able to engage in partnership with organizations who champion a cause in a way that lines up with your values and beliefs. The aligned partnership allows people to understand and appreciate the heart of your organization while also expanding the story of the partner organization and their message. It's win-win.
Community partnerships like this can create enormous benefits and influence. They can also lead to lifelong relationships that positively fuel your culture by adding value, depth and meaning to your brand efforts.
Belief is a 10 year old streetwear brand housed in a skateshop/boutique in Astoria, Queens. The Belief brand uses the New York state motto "Excelsior" to celebrate its story. The term is latin for ever upward, superior, higher or better. The title fits Belief's story well because it represents the brand's positive commitment to provide better quality and to better themselves. The term also reveals the deep pride that the brand has for New York.
Belief isn't a mammoth brand, but they are making a name for themselves as a rising street wear brand. They have grown their brand by focusing on the quality of their product and instead of relying on popular collaborations. Belief is a brand that has only sought out partnerships that "feel right with the brand." The founders state that Belief is "only interested in creating partnerships with people who they like, respect and are inspired by." That list includes a partnership with Variety Boys & Girls Club of Queens.
Belief partners with the Variety Boys & Girls Club of Queens to promote the work that the club is doing and to support their cause. For example, in 2020, they promoted a limited edition sweatshirt collaboration where 15% of the proceeds were donated to Variety Boys & Girls Club of Queens for their youth programs.
When you see @beliefnyc with 46k followers promoting a partnership on Instagram with @bgcnyc who has 1k followers, it may seem that Boys and Girls Club New York is a big beneficiary of this partnership – and they are. Aligning with a cool street wear brand like Belief is an association that nets cool points with the kids at the clubs while also raising funds for their program. The clubs also gain exposure through Belief's platforms and promotion.
A closer look on the other side will show the way the Boys and Girls Club acts as an influencer by building trust and potential trial of the Belief brand. Individuals who support the Boys and Girls Club receive a trusted introduction to the Belief brand. This type of association serves as an implied endorsement as the Variety Boys and Girls Club's supporters are confident that their organization would only engage in a partnership like this with an honest, authentic brand. This trust kickstarts their understanding and appreciation, creating a positive effect on the perception of the Belief brand.
It's reciprocal influencer relationship where both brands benefit. This is a tremendous illustration of how community partnerships can educate, influence and benefit both sides through a combined brand story celebration.