Amazon Gets Personal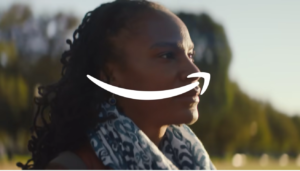 In 2020, Amazon created a new series of films that took viewers behind the scenes to meet the people of Amazon. Amazon said that their "Meeting In The Moment" film series is all about celebrating the "hundreds of thousands of people bring their passion and determination to Amazon every day." It does just that.
Individual team members are spotlighted in a :30 or :60 film. The films educate you on their personal stories and allow you to view a monster-sized company like Amazon in a personal way.
The film series is supported by landing pages and online ads that take parts of each story and allow you to learn more. Viewers who choose to "learn more" will receive a complete explanation of the programs, processes, or results detailed in the short film. Very purposely, brand education is just a click away. Amazon introduces you to the individuals, celebrates what they do, and then makes it easy for others to learn more and advance the connection. It is culture development marketing on a grand scale.
The "Meeting In The Moment" series features one of the world's largest companies reducing their message down from a subset storyline to the celebration of a single individual's story. It's a common technique used at Brand Story Experts and is masterfully executed in this series.
You bring people in with a single story, then provide like-minded people an opportunity to expand their education on all of the ways that the individual is contributing to the brand's story.
In the "Meeting In The Moment" series, each employee they spotlight is celebrating the Amazon story while informing the audience of the role they play. You clearly see the pride they have in being a part of a larger vision. You easily recognize that appreciate getting to be a part of the Amazon story.
Will these films connect with team members who see their story in these films? Will these films elevate the perception of Amazon to the people who see the company as a giant machine? Can these films inspire like-minded people to appreciate Amazon on a greater level? The answers are Yes, Yes, and Yes.
That is the power of Culture Development Marketing.
Take a look at a few examples.
Meet Shanika – Member of the Amazon Future Engineer program. She talks about the goals of the program, what it means to women of color and how joining Amazon has helped her make a difference.
Landing Page reinforcing Amazon Future Engineer
https://www.amazonfutureengineer.com
Meet Christine – She works in Safety at Amazo. You clearly see the heart she puts into taking care of co-workers. The film hits home as she shares the pride her son takes in what she does, saying that "Mommy helps people at Amazon.
Meet Ricardo – He is a deaf team member who shares his story through sign language. Riccardo talks about the support he gets from the company and what it means to his family.